Existing-home sales reached a seven year high in 2013, according to a recent report by the National Association of REALTORS (NAR). Existing-home sales, which include recently purchased single family, townhomes, condominiums, and co-ops rose 1 percent in December to a seasonally adjusted 4.87 million units for the year. There were 5.09 million existing homes sold throughout 2013, which is a 9 percent improvement over 2012.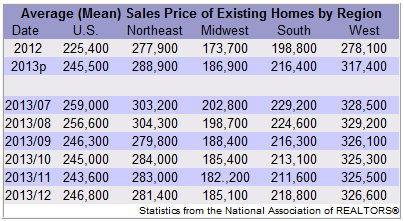 NAR chief economist Lawrence Yun sees the national real estate market benefiting from an economic turnaround. "Existing-home sales have risen nearly 20 percent since 2011, with job growth, record low mortgage interest rates and a large pent-up demand driving the market," he said. "We lost some momentum toward the end of 2013 from disappointing job growth and limited inventory, but we ended with a year that was close to normal given the size of our population."
Nationally, the median time for homes to sell was 72 days in December, a decrease from 56 days for November, and on par with 73 day pace recorded in December 2012.
ARE BI-WEEKLY PAYMENTS RIGHT FOR YOU?
Many people ask about bi-weekly payment plans designed to reduce the interest paid out over the course of your loan. These programs help the borrower budget an extra payment a year, and over time this can knock years off the repayment schedule. Many people are surprised to learn that they can do this themselves without any special programs, simply by submitting an extra principle payment as they are able. By submitting an extra payment, you get the advantages of an early payout, without the extra contractual obligation. Want more information on other mortgage options? Contact us today for our list of preferred local mortgage experts.
THE BEST HOMES SELL FAST!
Smart sellers understand that a proactive selling strategy can go a long way in getting their home sold quickly, and for top dollar. Here are three tips for today's sellers:
Make your home shine. Buyers like to envision a home they can move right into. Clean carpets, fresh paint, and a nicely landscaped yard can go a long way to make perspective buyers feel at home.
Anticipate the selling season. Many sellers wait for the market to pick up before they place their home for sale, but smart sellers anticipate these seasonal adjustments and list their homes early in the sales cycle. Give yourself the best opportunity by placing your home on the market before everyone else does!
Price your home right. Markets change, so don't be influenced by last year's selling activity and home prices. We will evaluate your home based on the most recent sales data and price it to sell for the most money in the shortest amount of time.
Whether you're looking to sell today or are thinking of selling tomorrow, please feel free to call and ask for an analysis of our recent market activity. We would be more than happy answer any questions you might have.